Shortpass filters are designed to have a very sharp transition from transmission to reflection, making them extremely useful in a number of applications. Available in a variety of cut-off wavelengths, they are ideal for fluorescence applications, Display, separating spectral orders, and creating custom, efficient bandpass filters when combined with longpass filters. With an average transmission of 85% and a blocking optical density of 2.0, excellent contrast can be achieved in machine vision and gauging applications. A single layer AR coating on the back surface enhances the overall efficiency of each filter.
All filters are available in 12.7, 25.4, and 50.8mm diameters, or requested dimension.
Common Specifications:
· Transmission (%): >93
· Surface Quality: 40-20
· Optical Density OD: ≥4.0
· Substrate: H-K9L,UV Grade Fused Silica or requested
Technical curve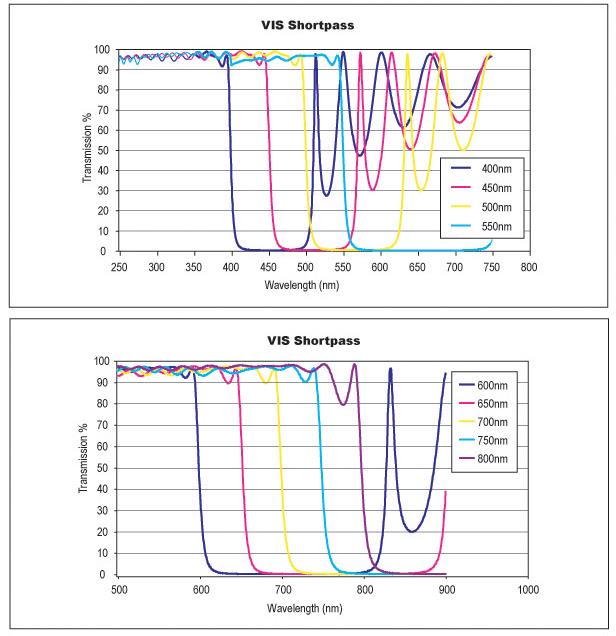 IR Cut filter (Absorption type)

It's fabricated by special blue glass (BG39 from Schott or equivalent).
The glass will absorb IR wavelength and let visible light pass. It widely used for digital camara.
Specifications:
Material: blue glass (BG39 or equivalent)
Dimension: 2mm ~ 200mm
Square or round shape
Flatness: λ/4
Surface Quality: 60-40 S/D
Parallelism: 3'

Volume production capability

Short delivery time
AR/AR Coating Ravg<0.5%@visible wavelength is available.